---
Welding Skid
Welding skids are a great way to move your welding machine around. They can also be used as a work surface for your welder. A welding skid is a platform that has been designed specifically for welding machines. It is made out of metal or wood and is usually portable.
A welding skid is a platform that is used to hold a welding rig in place. The skid provides a stable base for the welder, which allows for more accurate and consistent welding.
Welding rigs can be quite large and heavy, so a good welding skid is essential for safe and accurate use.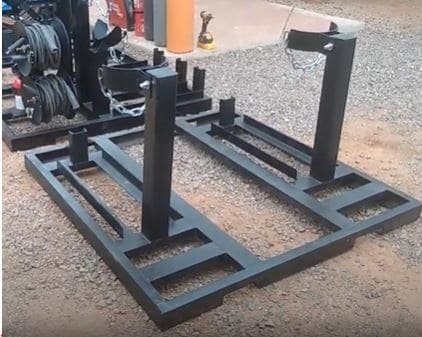 There are many different types of welding skids available, and each has its own benefits and drawbacks. Some welders prefer to build their own skid from scratch, while others find it easier to purchase a pre-made model.
No matter what type of welding skid you choose, it is important to make sure that it is sturdy and well-constructed.
Welding Skid Ideas
Welding machines are often large and bulky, making them difficult to move around. A welding skid is a platform that is specifically designed to hold and move a welding machine.
Welding skids come in a variety of shapes and sizes, but all serve the same purpose—to make it easier to move a welding machine from one job site to another.
There are many different uses for welding skids. They can be used in factories and workshops to move welders around the shop floor, or they can be used on construction sites to move welders from one job site to another.
Welding skids are also useful for moving welding machines between different buildings.
Welding skids can be made from a variety of materials, including wood, metal, or plastic. They can be purchased premade or they can be made at home using basic carpentry skills.
welding Skid Layout
When welding a skid, there are many factors to consider in the layout and size. The skid weight, length, and height will all play into the dimensions of the welding skid.
It is important to make sure that the skid is stable and can handle the weight of the materials being stored or transported on it. The length and height of the skid will also determine how much space is needed for storage or transport.
Small Welding Skid
When it comes to welding skids, size does matter. The layout and dimensions of a welding skid dictate its weight and how easy it is to move around. Here are the key specs for small welding skid.
Welding skids come in all shapes and sizes, but the smaller ones are especially handy because they're easier to move around.
This small welding skid has a length of 96", width of 24", and height of 12". It weighs 100 pounds when empty, making it easy to transport without too much hassle.
welding skid for Trucks
Welding skids are a necessary piece of equipment for welding trucks and rigs. They provide a stable, level surface for the welder to work on and help protect the truck or rig from damage.
Skids come in a variety of sizes and layouts, so it's important to choose the right one for your needs.
The size and layout of the welding skid depends on the size of the truck or rig being welded. A standard welding skid is typically 4'x8′, but it can be made to fit any size vehicle.
The skid should be big enough to provide a stable surface for the welder, but not so big that it takes up too much space or interferes with other operations.
The dimensions of the welding skid also need to be considered.
Homemade Welding Skid Designs
Welding skids are a must-have for any welder who wants to move their welder around easily. Skids provide a stable platform that helps welders work more efficiently and safely.
There are many welding skid designs available, but some welders prefer to build their own skids.
To make your own Welding Skid, you need below Materials:
Pin bolt & Nut 1/2
Pipe- 8" & 3"
HD Chain 16"
Square Pipe 3" x 3"
Angle 2" x 2"
C Channel 3" x 1/5"
C Channel 3" x 3"
C Channel 3"3"
C Channel 3"x 3"
If you're interested in building your own welding skid, there are a few things you need to keep in mind. The first thing you need to do is decide on the dimensions of your skid.
The next step is to choose the materials you'll use to build your skid. Most welders use wood or metal for their skids, but there are many other options available.
Once you've chosen the materials for your welding skid, it's time to start building
how to make a welding skid at home?
A welding skid is a portable work surface that is often used for welding machines. There are a few key components that you'll need to build a welding skid at home, including a frame, a welding surface, and wheels or casters for mobility. Here are the basic steps to building a welding skid:
Start by building the frame of the skid. This can be made from steel and should be sturdy enough to support the weight of the welder and any equipment or materials that you'll be working with. The frame should also be designed with enough clearance underneath to accommodate wheels or casters.
Once the frame is built, you'll need to add the welding surface. This can be made from a piece of steel plate or a section of steel grating. The surface should be large enough to accommodate the workpieces that you'll be welding, and should be level and stable.
Attach wheels or casters to the bottom of the frame to make the skid mobile. Make sure to choose wheels or casters that are appropriate for the weight and size of your skid.
Finally, you'll need to add any other features or accessories that you need for your specific application. This might include shelves, drawers, or holders for tools, welding cables, and other equipment.
---