What is a Butt Weld Joint?
Butt Joint Welding is one of the most basic and essential types of weld joints used in most welding fabrication.
A butt weld joint is a type of weld joint where two joining members are placed parallel to each other and butted together to deposit the weld metal.
A butt joint is also called the groove joint and provides strong welding joints with high strength compared to fillet weld or other weld joint types.
This type of joint provides highly-durable and strong welds that are perfect for many applications. It is well-suited to use on materials such as steel and aluminum, where strength is a major factor.
Types of Butt Weld Joint
In this article, we will discuss some of the different types of butt weld joints that are available for use in many different welding applications.
Based on weld bevel preparation, butt joint types are:
Square or straight butt joint,
Single Bevel butt joint,
Double Bevel butt joint,
Single-V butt joint,
Double-V butt joint,
Single-J butt joint,
Double-J butt joint,
Single-U butt joint,
Double-U butt joint.
A square butt joint is without any weld preparation and is mostly used with thin materials. Single-V, Single-J, and Single-U joints are mostly used for thicknesses up to 1 inch.
For higher base metal thickness and where access to weld from both sides is available, Double-V, Double-J, and Double-U weld joints are predominately used.
This is beneficial to use Double-V, Double-J, and Double-U weld joints because of:
Reduced weld metal volume,
Control of welding residual stresses and distortion,
Cost-effective,
Increased weld productivity,
Ease for weld repair if any.
Welding Positions for Butt Weld Joint
Butt welding joint can be carried out in the following welding positions:
1G: for plate & pipes,
2G: for plate & pipes,
3G: for plate only,
4G: for plate only,
5G: for pipes only,
6G: for pipes only,
6GR: for pipes only,
Parts of a Butt Weld Joint
The main parts of butt weld joints are:
Root face,
Root Gap,
Bevel angle,
Groove angle,
Depth of penetration.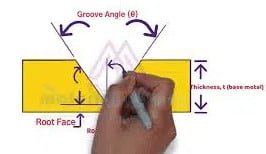 Advantages of Butt Welding Joint
The first advantage of butt welding over other types of joints is its strong structural integrity. The strength of the joint created by the butt welding joint comes from the depth and angle at which the weld is made.
This is combined with the type of butt joint as a complete joint penetration (CJP) or partial Joint penetration (PJP). A CJP weld joint is having the highest strength compared to a PJP butt joint.
Other important features of butt joints are:
They can withstand a maximum load equal to or higher than base metal if a CJP with high-strength welding filler is used.
Weld deposition in butt weld fill pass is easy.
Can be used with any base metal thickness.
Less distortion.
Welding inspection is easy.
Disadvantages of Butt Welding Joint
The main disadvantages of Butt Welding Joints are:
High skill required for root run and capping pass welding.
Welding in out of positions welds is difficult.
Usually, internal NDT (such as RT or UT) is required to ensure the full strength of the weld joint.
Compared to fillet welding, butt joint welding is quite difficult.
Welders need to obtain different welder certifications to weld different butt weld types if welding according to AWS codes.
Open root run welding is challenging.
Butt Weld vs Fillet Weld- Which is stronger?
Comparing butt weld and fillet weld on the scale of weld strength. Butt weld of course is very strong and withstands all types of loading (longitudinal, transverse, torsional, and shear). While the fillet welds are good mainly for shear loading.
Fillet welds are easy to make but they lack complete base metal fusion. This reduces their strength drastically for cyclic loading. While butt welds (CJP type) are best for cyclic or dynamic loading applications.
Due to the above reason, fillet welds are mainly limited to static loading applications such as structural fabrications. Structural welds such as seismic fabrications use mainly CJP welds known as -T-K-Y joints.
---